A few communal aerial options designed to entertain many.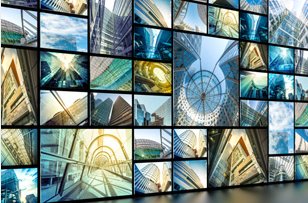 There are plenty of places across Hampshire and Sussex in which multiple people want to watch different digital TV channels at the same time. Apartment blocks old and new. Schools. Hospitals. Gyms and other clubs. How can you keep everyone entertained without having to install individual satellite or digital systems for each television?
The answer is to opt for a commercial satellite or digital TV system. We can help you choose the right system for you, and supply all the hardware and then install it. And if you already have a commercial system, we're the people to call to repair, replace or upgrade it.
There are three main commercial systems being used in the UK, and we're experts at the lot.
MATV
That's Master Antenna Television to give the system its full title. Using a special antenna, it transmits signals to multiple points in the same area so each can receive different TV and radio signals.
SMATV
It's like MATV, only uses a satellite dish as well as a TV aerial to bring people multiple entertainment platforms from terrestrial and overseas suppliers.
The system combines the services from these platforms so customers get to pick from a wide range of digital entertainment platforms.
IRS
This is an Integrated Reception System which delivers a very comprehensive service that combines content from the UK's biggest digital entertainment platforms. Think Freeview, Freesat, Sky and other services, both subscription based and free-to-air.
Call us to install commercial systems and repair them too.
Just as one commercial system can cater for many needs, so will one call to the team here at Southern Coast Aerials and Satellites. We can install and repair any of the commercial entertainment systems mentioned above in pretty much any location in Sussex and Hampshire. We'll even venture up into hard to reach or skyscraping locations – saying 'yes' to the sort of jobs some companies refuse.
Why choose us?
Our Same Day Service often leaves customers in Sussex and Hampshire pleasantly surprised by how quickly we can get to their location, and how fast we can complete jobs. 95% of the time, the work we start is completed on the same day.
Free Consultations – opting for a commercial satellite system is a big decision. We can help you plan your set up and then supply all the hardware and installation expertise. It all starts with a free consultation which you can book now by calling us on 0800 046 9816.
Competitive Written Quotes – we offer prices that are the most attractive in the area for this type of work. And when you ask for a written quote, we'll get one back to you within 24 hours.
Commercial Support And Maintenance – what business has time to regularly check its commercial system? Leave that to us. For a small fee, we'll ensure one of our experts checks your commercial set-up four times a year. They'll ensure it's working well, and advise you of any changes or upgrades you might want to make.
For commercial satellite and aerial installation, repairs and support anywhere in Hampshire or Sussex, call the Southern Coast Aerials and Satellites team on 0800 046 9816.